| | |
| --- | --- |
| | This article contains outdated information. Please update it. |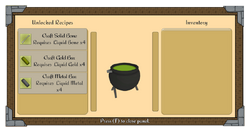 Shoppe Keep has a crafting system based on the alchemical idea of grinding down items into varying amounts of six different base materials, and then combining those materials with other items to create new items. The base materials used are:
The Material Tanks can store up to 40 liters of each respective material. Using the taps for any given material will yield 1 liter of that material so long as you have at least that much in the tanks. Unneeded vials of the materials can be grinded back into the containers via the Grinder. To actually create an item, you must add four materials or items into the Cauldron in a specific order according to the item's recipe.
A recipe is the combination of four items put into the cauldron in order to create a single new item. Once a recipe has been used, it will be added into the cauldron's recipe book. This recipe book is only accessible by pressing the F key on the cauldron. The recipes can be clicked on to quickly craft an item only if the required ingredients are in the player's inventory.
There are currently 28 known recipes in the game, and each of them will be listed below. Recipes that have been removed from the game will also be listed in their own tab.
Notice: You must insert the ingredients shown in order (from left to right). Otherwise, you will lose all items.
Removed Recipes
The following recipes were available in older versions of the game, but have since been removed.
Material Output
Edit
The tables below will list the material output of every possible item in the game. In other words, how much material an item yields when it is grinded. There is currently a total of 145 items you can grind.
Notice: These lists can become outdated with each update to the game. Do not heavily rely on them.
Community content is available under
CC-BY-SA
unless otherwise noted.